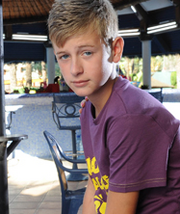 Oliver Stokes is an English child actor. He was born in 1998 and has been one of the main characters - Michael Garvey - in Benidorm since the show's first episode in 2007.
Stokes has appeared in Benidorm since 2007. He has appeared in 36 episodes so far, playing Michael Garvey.
Stokes appeared in one episode of the BBC TV series "Doctors" in 2012, playing George Davies. He also appeared in one episode of the TV series "The Street", playing Lee Hanley.
Stokes appeared in the film "The Damned United" in 2009, playing Nigel Clough.
Personal Life
Edit
Stokes was born in Kingston-upon-Hull in Yorkshire, England in 1998.
Ad blocker interference detected!
Wikia is a free-to-use site that makes money from advertising. We have a modified experience for viewers using ad blockers

Wikia is not accessible if you've made further modifications. Remove the custom ad blocker rule(s) and the page will load as expected.